Hello, all. I haven't posted anything in a while, and quite a bit has happened, so this will be all-inclusive. First, the fun, then the work.
The Great Toboggan Ride
This past Saturday, Charlotte and I took an intriguing medley of trains and automobiles to the resort of Atzmännig to have a go on the giant slide. They've rigged a 700-meter-long toboggan run to keep things alive on the slopes during the summer. According to Charlotte, this is what Europeans do when they can't ski. Well, I've never skied, but this
has
to be just as fun. If you want to experience it second-hand, I've included a short video below.
In case you can't tell, I had a really good time. In addition to the slide, we got to experience the Swiss countryside; rather than sit and wait for a couple of buses, we walked to the next stop and got to see some gorgeous scenery. You can even see the southern end of the Zürichsee from one of the bus stops (below). I have a few more pictures
here
.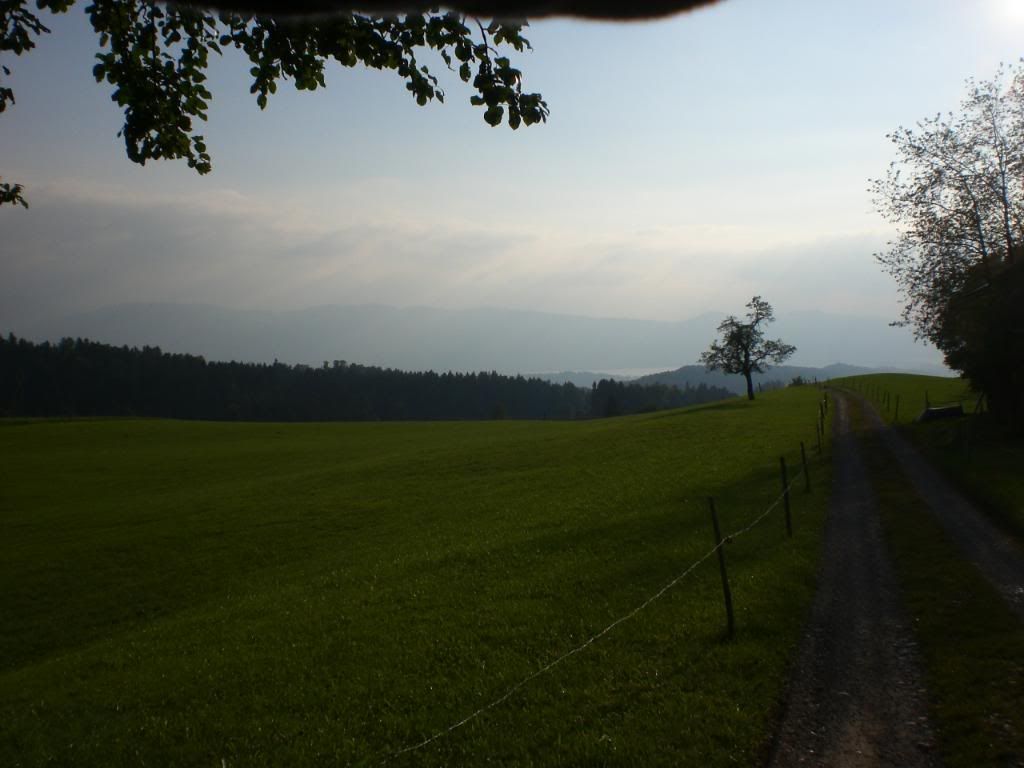 Titlis
Sunday, Katherine, Charlotte, and I went to Mt. Titlis as planned. We met up the main station and took a train through Luzern to Engelberg, which lies at the foot of the mountain. The four of us (Katherine's friend from Italy came too) hiked from Engelberg up to Trübse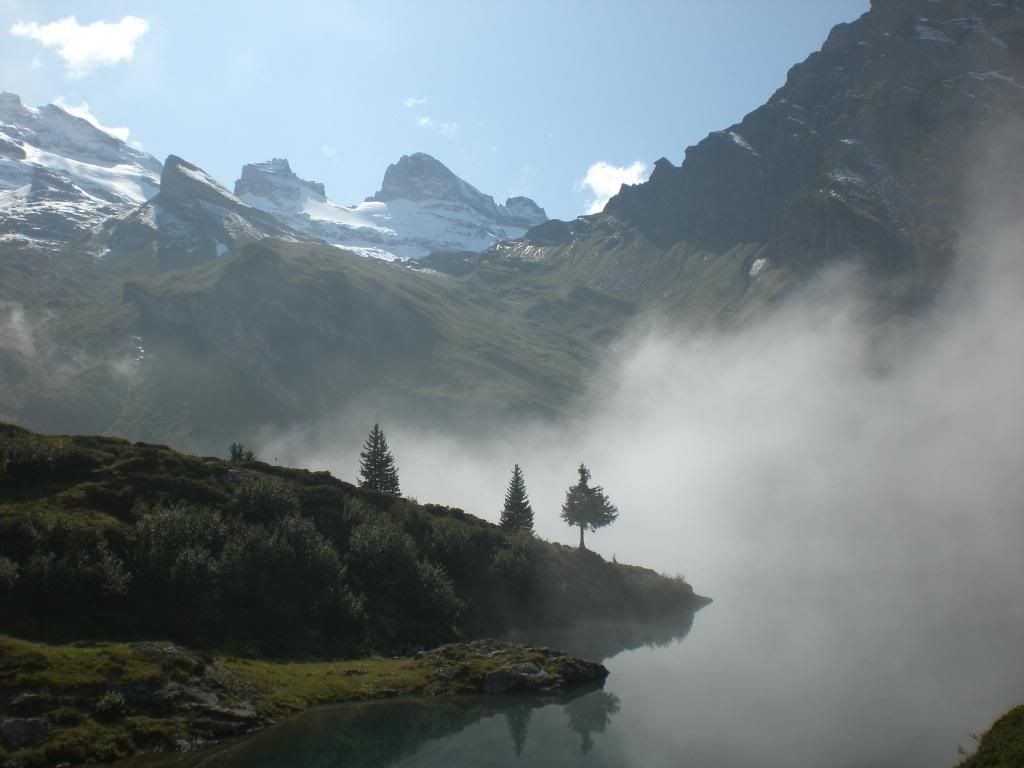 e, then took a chair lift and the rotating Rotair gondola up to the summit. The hike started off well, but pretty soon we were completely engulfed in a thick, cold fog. Visibility stayed within 20 meters for a couple of hours, but when we the fog finally cleared . . . oh my. We went from hiking in oblivion to this--> literally within seconds. We managed to take a few group pictures, thanks to a friendly local, but then the clouds rolled back in. The ride to the top was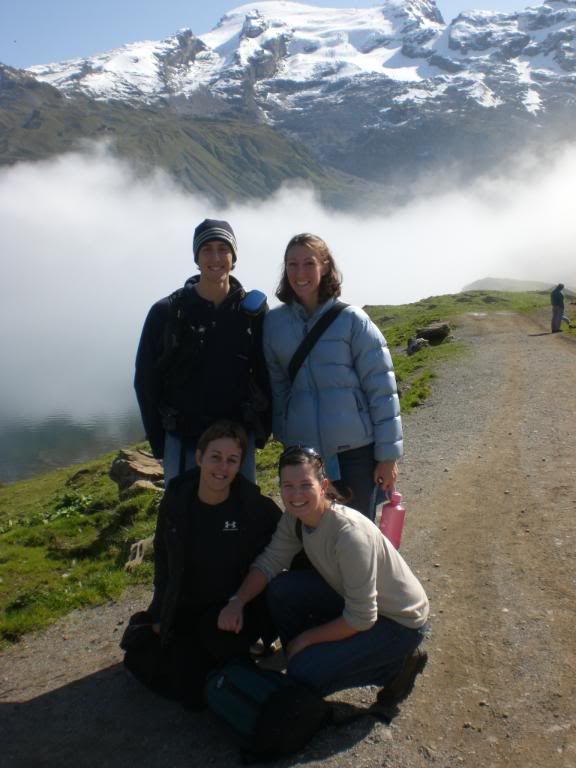 pretty entertaining, thanks to a tour group that was
very
appreciative of the
scenery. As Katherine mentioned, it's pretty cold at 3000m, but the view was well worth it. On a clear day, you can see several other famous peaks from the heated terrace or the patio outside. When the clouds calmed down, the view was spectacular. Rather than post the rest of my pictures--tempting as it might be--I'm going to link to my
album
. You'll find some pics there from every stage of the trip, including some adorable Swiss cows and the man-made cave inside Titlis' glacier (that we almost didn't get to see). They tell the story better than I can, and with blog-friendly brevity.
It was quite a day; in fact, I was so tired that I slept most of the way there
and
back.
Research Update
Last week I broke through the "orientation" phase of my internship into the "doing stuff" phase, which comes as a huge relief. You can only read so many research papers and technical books before that section of your brain starts to melt. As of yet, I haven't done anything terribly complicated. Most of my days were spent setting up an experiment on the calorimeter in the morning and performing different analyses on our prospective feed product while the experiment runs. For the most part, I work without supervision. I don't really need supervision at this point, so that's a definite plus.
The best part of my work so far has been the surprises. I find that a process or a measurement or a reaction that goes as planned can be nice, but they just don't have the same excitement as a completely counter-intuitive reading from your machine or a sudden, unexpected change in your system. I've encountered a few hurdles, including a complete software meltdown in the calorimeter. I thought I had fixed the problem, but it took 3 consecutive 8-hour experiments to find out differently. Strangely, I don't mind at all. I came to here to experience the kind of research with which I will probably be involved in graduate school. I believe that I've found that here . . . and I
like
it.
Until next time,
Joseph